About Max Manus Innovation
Passion Driven Innovation
About Max Manus Innovation, by George Manus, Chairman & Creator of Max Manus Innovation
"Throughout my working life from 1958 I was involved in the companies under the Max Manus umbrella, and from 1967 to 2005 I was Managing Director, after which I passed the baton to the third generation.
It was an exciting journey with many challenges, but also very educational with a lot of satisfaction, not a single working day was boring.
Max Manus Innovation is one of many companies under the umbrella of the Max Manus Group, which I have used in conjunction with my active retirement hobbies.
It all started in the beginning of 2000. I had partly retired from the family business, already in good hands with my daughter and son in law and I had moved to Spain to start my active retirement life with my lovely Swiss wife Marianne whom I married in 1998.
My main hobbies became inventions and creations mainly related to Golf.
I took it as my first challenge to construct probably the most compact collapsible golf trolley ever seen.
While working with the above-mentioned challenge, thoughts about reinventing the wheel was quite logical, as many golfers prefer to use an electric trolley.
As I am a golfer myself, I constantly had in mind how one could improve one's game by means of training aids. I concentrated on a well-known challenge that most of us amateur golfers are facing, namely, to keep the head and eyes behind the golf ball at impact.
In short, my developments were spilt in five groups:
Golf Trolleys – MACWHEEL – The Short Game Coach – Golf Putters and – Other Training Aids for Golf.
In my book 'Innovations and Creations', I have made some simple documentation and taken photos of the models I made, mainly to prove the feasibility of the ideas and as background for the patent office to make drawings and to get an understanding of the various principles.
This book should give an insight into what I have been through in my inventive world as a pensioner.
I did not have the capacity nor the intention to make a business out of my hobby, as I had no time to deal with it in my active business life.
Particularly as my writing took more of my time and passing eighty it was already too late for me to engage in serious business activity again.
However, this is an attempt to tidy up what is the state of play as per today.
Apart from 'Inventions and Creations', (only in English), and 'The Max Manus Companies', (only in Norwegian), all my books are in both English and Norwegian.
Golf Inventions
– The plan is to make the range of X-ZYTE Personalized Putters and The Short Game Coach available to be purchased on this site – watch this space!
The page George Manus Publications is dealing with my writings.
"Very little has given me more pleasure than the challenge and excitement of creating something that one thinks no one else has done before, as for example to reinvent the wheel. Who can be so stupid as to try that?"
I am now Chairman of Max Manus Innovation AS with my daughter Anne-Marie as the administrator and owner of the company and now my son in law Jens Aasmundtveit has taken over as CEO.
In 2005 Jens became the CEO of the Max Manus Group after having already worked for the company since 1991. He has together with Anne-Marie, successfully managed the companies' activities in Norway, Denmark and Sweden until last year.
In 2020 we sold the family business Max Manus Group, which developed and manufactured technical solutions for the health sector in Scandinavia. We sold to the Norwegian private equity company Verdane and Swedish Conscriptor AB.  – and has now been renamed Omilon.
We are very happy to continue as a family business in different and exciting sectors!
George Manus
The South of Spain
2021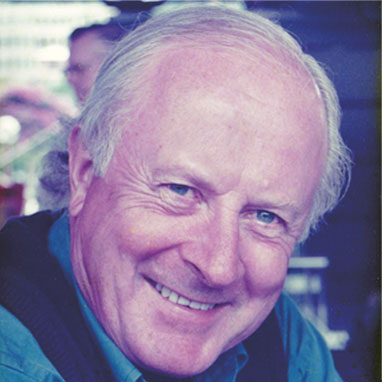 About George Manus
George Manus was born in England 14th May 1939. His mother was from Norway and his father George Bernardes, was from England. The parents divorced and George grew up, after the Second World War, as the stepson of war hero Max Manus in Norway. He got the name Manus but was never adopted. During his professional life he was involved in the Max Manus Companies and leader of the same for 40 years. Throughout his adult life he has always been thinking about many things and made many notes along the way. These notes were then used as a study for the books he knew he would write when he retired. George Manus has fulfilled his dreams and as of today has written over 20 books. In his authorship one can sense the cosmopolite, which isn't random – he has lived in different locations and the last twenty plus years in the South of Spain.
Inventions:
"If You think You have found the right solution to a Challenge after the first attempt to reach a result, you can be certain it isn't the right one. It may be acceptable, but by far the optimal Solution You have found.
Inventions and Creations are part of an evolution. You must experiment with a variety of possible solutions, and only then, after a lot of challenging setbacks, you may find the right, but not necessarily the optimal solution.
Does the optimal solution exist, and who can eventually be the judge of that?
Be humble, there are many brains out there in the big world. Do have respect for that but believe in yourself and never give up."
No Future without a Past
Ego Presentation given at Furuset Rotary Club – Oslo Norway 1987
Dear Rotarians and guests.
An indisputable prerequisite for growing up is having been born. The date was 14.5.1939, very early in the morning. As in all mothers' lives, it was surely a big event. The following probably applies here as well as in other situations:
"Most women give birth to children, but only I give birth to mine".
The offspring was very thin according to what I've been told, but we can't all be the same.
The place of confinement was the local hospital at Caterham, a suburb of London.
To be brief, my maternal grandfather, the County Governor in Bergen and Hordaland, felt that his daughter, after finishing her A-levels at Bergen Katedralskole, ought to learn languages. London was chosen and the year was, as far as I know, 1933.
What happened was that she met the man who was later to become her husband. He was English and one of three brothers. He ran a family business which was founded in 1885 and which was responsible for the unloading of wood from all Scandinavian countries, a so-called Stevedore firm.
The wedding took place in 1936. They built a house in Caterham and though a lot of it was exciting, I don't think my mother really settled down to be a stay-at-home housewife in England. She drove her husband to the local train station every morning and picked him up in the afternoon, after having spent most of the day playing bridge with other like-minded women. That was apparently how one had to live at the time, and the English are conservative.
I was, as mentioned, born in 1939. The heavy clouds over Europe, which we have all heard of, seemed to be extra heavy at the time, because mother shortly after moved back to Bergen with me.
Allegedly the thin offspring was also quite ill at the time. The doctors weren't sure what illness I had, but that I was going to die there was apparently no doubt at all.
The medicine which finally cured the evil was said to have been tried for the first time in Norway on yours truly. Drama from the word go, and as if that wasn't enough, while staying at Ulvik in Hardanger, the family hotel was set on fire by the Germans. The old wooden hotel burnt down to the ground and the baby carriage with me in it was apparently rescued at the last minute.
My father reported for duty at the Foreign Office after his elder brother was killed in Greece. The import of wood in England had stopped because of the war and the firm was closed. It's probably a bit strange that he despite being an officer in England's oldest regiment, The Honourable Artillery Company, considering the lack of officers in those days, was transferred to Haugesund in Norway as Consul. He had, however, fairly good knowledge of Scandinavia and spoke a bit of Norwegian. He was – among other duties – to report on the movements of the German fleet.
The Germans came and he retreated towards the north and ended up in Åndalsnes. The house he was staying in there got hit by German bombers.
It's not easy to make the story short, but I'll try. He was rescued from the ruins as a non-survivor, but someone must have seen that he was still alive.
He was later transferred to the hospital in Ålesund, heavily wounded by metal splinters in his head.
Via Vollan prison in Trondheim he was then by the Germans sent to Møllergata 19 in Oslo.
During one of his stays at Ullevål Hospital in Oslo my mother visited him and that was the first time she heard the name, Max Manus. This strange person had fled from his guards at the same hospital the night before, after first having struck down a nurse. My mother and Max were to meet later in life and there is no doubt that my life has also been affected by that meeting.
My father was, due to his diplomatic status, eventually sent to Sweden and was there operated several times by the well-known brain surgeon, Olivecrona.
The metal splinters were removed after which he spent a long time recovering at Saltsjøbaden outside Stockholm.
My life as a hostage began after Fehmer, himself the top German Gestapo officer in Oslo, gave the order that if my mother wanted to go to Stockholm, she would have to leave me in Norway.
My dear auntie Kari, mother's sister, had due to the war moved from Bergen to Ulvik in Hardanger. She became my mother number two and a person I greatly appreciated. Unfortunately, she died a few years ago.
My mother's brother, Sjur, became part of the resistance movement from the very beginning, whereas my maternal grandfather stayed in his post as County Governor throughout the war. It seemed to be the way things went in those days.
It's been reported that the hostage in Ulvik wasn't very old before he was given an extra ration at the co-op, because of the excuse he used: "You must take pity on me because I haven't got a mother or a father".
In Stockholm my mother worked at the British Legation, where she under the nickname "Auntie", among other things, wrote and conveyed reports from the resistance people who managed to get to Sweden for a rest, or on their way to England. She was later given King Haakon's Medal of Freedom for her work, of which she is very proud.
As I have been told by my mother, a very strange man by the name of Max Manus appeared at the office one day, after one of his resistance operations in his homeland. It must have been this meeting which was to be the start of a new future. It is said that time solves most problems and there is certainly a lot of truth in that. I don't know why, because nobody has been able to tell me why, but the hostage was eventually set free at a later date, with the natural consequence that he ended up at his mother's, again as when he was born, abroad. Some insignificant confusions of time may have sneaked in here, but no matter how it was; the earlier hostage had become a big boy all at once.
After my stay in Stockholm, back to Ulvik in Hardanger I went, where my first school year finished the spring I turned seven.
The reason for my early start was probably that the extra work for my auntie Kari was reduced by letting me start school rather than having me at home. Her daughter and son were already at school.
The teacher was another aunt, though not by blood, and she accepted responsibility for me. She died many years ago, but I still remember her as a somewhat special person.
I can also remember that I went to Sunday school the same year and got a good many stars in my book.
Somewhere in time, just after the liberation in 1945, I recall one of the biggest disappointments imaginable, the taste of my first banana. There was no end to my tears, the banana had been so much talked about and so overrated, and then for me there was no taste.
Back to Sweden once more and what do I remember from those days that may have affected me? At least one episode from the tail end of this stay in Sweden, I can recall; too terrible. Without having any other purpose than lighting a fire, I managed to light one in a wood stove standing in a barracks consisting of at least two storeys. I lit the fire on purpose, of course, but what I didn't know was that the stove had no chimney. The result of it being that the entire house burnt down to the ground.
Furthermore, I lost my watch one day at the day-care centre. It had been given to me by my father and I never forgot its loss.
The summer of 1945 was perhaps the start of that part of my life which was seriously concerned with my development and awareness of environmental influence.
The middle of the day, lovely sunshine, I recall. The place being a summer camp way out in the Swedish country-side. A car arrives with my mother and an unknown man inside. My belongings were packed and off we went. I became carsick at the time and have been frequently so ever since.
There was apparently a lot of excitement at the Norwegian border; I had some odd thoughts but was too young to understand. Had my father, who was a convalescent but who still had his position as Vice-Consul in Stockholm, heard tell about a kidnap attempt?
Had he been able to arrange for us to be stopped at the border? No, not at all, everything went well, and the kidnap victim didn't understand a thing.
It later came to me, that my mother's female instincts must have been quite natural, I had to be part of the deal.
After the mentioned stay at auntie Kari's in Ulvik, I ended up at Landøya in Asker, a place Max had bought just after the liberation.
There I lived until I got married. Max turned into Uncle Max and a more orderly life took shape, though perhaps not always welcome from my point of view.
At seven I started my second school year at Holmen school.
The problem – no, even in those days' problems became challenges – was that I spoke a mixture of Ulvik dialect and Swedish.
This was the most important reason for my day mainly consisting of my strength being tested. We humans just seem to be made that way.
The school almost became a story. Bible history, geography and normal history, I understood in part, but in other subjects I was hopelessly bad.
I never actually had to repeat a year, but seldom was anyone closer to doing so than me. It was said that the most positive part of what I did at school was that I read loudly and clearly in class, but my teacher pointed out that I suffered from something which today would probably be called a mild form for dyslexia. I read, as I've said, loudly and clearly but only partly from the book. At least half of what I read aloud was pure invention, nicely fitting into the whole, a fact only discovered by those who paid attention to every written word.
Uncle Max, who was trying to make a man out of the rabble arouser, cheered for the other side when unavoidable fights got started. This was a therapy which I am sure was well-meant but didn't always feel positive.
Anyway, I can't remember my life as being especially problematic and much of my treatment was probably my own fault. At least one extra page of the manuscript would be needed to cover a summary of things which deserved punishment.
The property at Landøya was big and thinking back, there is no doubt that Max took part in a lot of fun and games and that he let our gang of boys have a lot of freedom at play.
My father, whom I had last seen just before leaving Sweden, I next met when I at eleven took the train to Stockholm on my own. He was still convalescent, had epilepsy from his injuries, but even so had just got married again to a Swedish woman. What do I remember from this meeting? Of course, the visit to Grøna Lund, and my father, but mainly the return train journey which ended up being very special.
There was a major derailment of great dimension at Pålsboda in Sweden, where thirty or forty people ended up in hospital and where at least one person was killed if I remember correctly. I was woken by the conductor who couldn't open the door to my compartment. My car was the fourth having derailed, while the engine and the cars in front had been thrown into complete chaos.
Three years later I again met my father. This time on Jersey in the Channel Islands, where he had settled with his wife and their first little daughter. Apart from my trip to Sweden, this was my first big trip abroad on my own. Oslo, Bergen, Newcastle, London and then by plane from Southampton to Jersey.
Twenty years would pass before I saw him again.
Back to 1947, my brother Max was born followed two years later by my sister Mette. We have always been, and still are, good friends.
A guide for growing up: Freedom with responsibility, a system which seldom failed. I suffered the occasional slip, of course, but never intentionally.
I feel that I have a fair judgement of what is right and what is wrong, honest and dishonest.
Max was involved in the organizing of the Home Guard from the very beginning after the war and thus it was quite natural for him to include me. I started as a sporadic staff driver at Home Guard manoeuvres at fourteen or fifteen, so there was never a dull moment.
In all manner of Home Guard manoeuvres, "playing at war" was my only   form of military service, but it was exciting.
Sport also formed part of my life and here it went far better than at school.
I took part in cross country skiing, ski-jumping, shooting, ice-hockey and a bit of sailing, but I lacked the will to win. The nerves failed, the hero seldom reached the top, but it was said that he had innate abilities for most things.
With girls, however, it was far easier, for some reason it wasn't so difficult to concentrate in this area.
All told, I did my O-levels and went to business school, and there was never any question of a higher education in my case. The practical suited me far better. Technical problems, carpentry and mechanics were more up my street; there my abilities were in order.
My summer job for several years was thus to work in the Max Manus Office Machine Company's workshop. The firm was in those days' general agent in Norway for Olivetti office machines among others. It thus seemed natural to send me to their school in Italy. As they were by far Europe's largest factory of its kind at the time, they had their own school for the technical side as well as sales and administration.
In 1956 I went to the town of Ivrea in Northern Italy and this became my home for just over a year. I followed technical training on all types of typewriters and calculators. The classes I was placed in consisted of nothing but Italians who had nothing much in the way of any common language skills.
So, I learnt to babble away in Italian after only a few months. The stay there and the subsequent half a year or so at business school in Florence, followed by short stays of practical training at the various Olivetti branches throughout Italy, strike me as the most important period of my personal development.
On my eighteenth birthday which I celebrated down there, I sold my Vespa scooter and bought a car. The deal gave me a profit of about a hundred kroner which covered the cost of my driving licence on my eighteenth birthday. I had, after all, been able to drive earlier.
Back home, I started to train the firm's many technicians, and later I went deeper into the running of the firm, but that's another story.
As with many others in my group of friends, I ended up getting married early. It seemed to be in the nature of things, an early start in a full-time job meant it was time to start a family. At barely twenty-one,
I was, of course, master of the universe, knew everything, and didn't let anything stop me. I had, by the way, been together with my future wife for nearly three years. She was from Oslo and we started our twenty-year marriage in an apartment at Ljabru outside Oslo. This was a bit too far from our friends and we soon, after about a year's stay in Halvdan Svartes gate, moved to a big, old flat at Skillebekk. Here our eldest daughter, Nicoline, named after her paternal grandmother, was born in nineteen sixty-three, followed by Anne-Marie, named after her aunt, in 1965.
Our circle of friends was close-knit, everyone was busy working, but certainly also knew how to enjoy themselves together. There were frequent parties which made the rounds, but everything was based on shared expenses. That way it became possible.
My wife worked for the first few years but later she went to school and took courses in weaving and pictorial art. Our income improved and we travelled frequently in our spare time. We took the children along whenever it was possible.
Throughout the years we frequently visited the family cabin at Filefjell and a year without grouse hunting seemed unthinkable.
In 1970 we moved into our newly built house in Gråkammen at Vettakollen and life took on a familiar pattern. Even though the catchment area was large, we managed to be part of most things; but there is no doubt that something essential was lacking in our relationship. Isn't it said that one grows apart? Our relationship did after a while develop a list and finally sank in 1979.
My father, whom I'd last seen and heard from when I visited him at the age of fourteen, I met again after having found him once more sometime in seventy-five.
It probably sounds strange that we hadn't had any contact during all these years, blood is after all thicker than water, but I had to turn thirty-five before I was mature enough to re-establish contact. He was then living in Spain.
It was a wonderful visit and what did I encounter? As many as three half-sisters. A couple of twins, who had just finished an engagement as dancers in the Bluebell troupe at the Lido in Paris and their somewhat elder sister.
All three were more than one metre eighty tall and the founder of the Bluebells had apparently kept an eye on the twins, as at least one of them had danced ballet during her adolescence in Jersey. Today two of them are married and have children. They live in London and Paris respectively, while the third lives in Hamburg.
My father, who is now seventy-five, I meet more or less annually, which is a pleasure for both of us. He is a resident of Jersey but spends most of the year in Spain.
From being someone who didn't have either mother or a father, to becoming someone who has two mothers, two fathers and five siblings, has probably also had a great influence on me.
As a person, I'm not as extroverted as I may seem, and I've always been reluctant to stand out. The personal image of the firm, I have probably at times taken too seriously, but I also feel that I'm quite good at delegating.
I have been the manager of most of the undertaking for about twenty years; and as manager of our activities in Denmark for the last ten years,
During this time, I've had ample opportunity to study human behaviour in these two countries, and thus gained great respect for integrity. I'm very much aware of the need to provide proper conditions permitting individual expression.
On the sport side, I have been on the board of Norway's Rifle Association's Clay Pigeon Division and have since nineteen seventy-two been foreman in the Skeet Club, a club which does clay pigeon shooting.
For a short time, I've been on the board of Oustøen Country Club, which concerns itself with golf. Since the beginning of the seventies I have, when it comes to sport, concentrated on clay pigeon shooting, bird hunting and golf.
I'm living in a world where I believe in the power of example and even if it's difficult at times in basic goodness of mankind.
I'm still a member of a few boards but have enough with my own business.
An example which I would still like to mention though is that I, for the last couple of years, have had the pleasure of being a member of the board and joint owner of a newly founded firm in Denmark, which is based on an old idea of mine, which I nurtured for several years. It was something so simple yet as complex as air. In this case an inflatable neck pillow which we called Sleepover.
It is apparently a product people want and which this year represents an export worth more than thirteen million Danish kroner.
I only mention this because through my own involvement I have gained an insight into a totally different kind of business. The people involved, not least in distribution, are very different from those I normally associate with, and the fact that sales take place on all continents fascinates me.
I believe I can be characterized as a very monogamous man. Some will say that it was planned, but in that case it must have been from a higher level, which I myself don't discount.
It so happened that only a few weeks after the dissolution of my marriage, my secondary school had an anniversary celebration. I met again an old flame of mine who had broken up with me back then and who was now herself a widow. Her time had come.
We have been together for the last six years but are not married. Her two children are grown up. The son is starting his military service at Christmas, while the daughter, at twenty-three, is studying at Blindern University.
My ex-wife has moved to Spain, so it seemed natural for my daughters to stay with me after the divorce.
The younger one, Anne-Marie, went to college in Switzerland and completed three years there, whereas Nicoline after an intermediary year at college in England, completed the Trade Gymnasium in Oslo. The two of them spent a year together at school in Paris in nineteen eighty-three and four, and then had a year at home, where the younger one took the secretarial course at the Trade Gymnasium and the elder sister did the first of two years at Sverre Wolf's school of decoration. She completed the course there this year, while Anne-Marie started at the University of St. Louis in Madrid, where the idea is to study for two years and then move on to the U.S. for the final two years. The relationships between all of us in our new family situation function brilliantly.
As for me, I have throughout all these years kept my British citizenship, not that it gives me any personal benefits, but there has always been something in me which hasn't felt wholly Norwegian.
The world undeniably consists of far more than Norway and even though it at times has caused a bit of personal turbulence, I have a strong belief that if we want to live in a world at peace, it can only happen by opening the doors and going out there getting to know other people and cultures.
Finally, I'd like to say that I feel happy at Rotary, and even though I know that I can't dedicate enough time to my work here, I feel that the ideals of the organization go hand in hand with my own views on life's values.
Thank you for your attention.
***
In 1994, after seven years as a member of Furuset Rotary Club and with new members to be considered, there was a request to repeat the ego presentation.
What you have read was repeated, but after thanking the audience for their attention, it lay in the nature of things that something had to be added.
After all, seven more years of my life had gone by. So, I added the following:
Had it only been that simple.
Many years have gone by since I wrote this, and life continues relentlessly.
My daughter, Nicoline, died of cancer almost four years ago, at the tender age of twenty-seven.
Only those who have experienced this sort of loss, are able to understand what it means.
My biological father, who really shouldn't have survived 1940, came to a natural end at the age of 83 in February this year.
The firm has seen a lot of hardship over the last few years, with major cutbacks and restructuring and I won't hide the fact that it's been a great challenge to keep everything going at times.
But life must go on.
Anne-Marie has long since finished her financial education at the university in Madrid. She has joined our firm and it seems that we have overcome our biggest challenges both personally and commercially.
She's living with Jens and seems to be happy, while my common-law wife and I keep finding security in our relationship.
My half-sister's offspring now come to a total of eight world citizens, from two to eighteen years of age, and together they speak at least five languages fluently and live in four different countries.
The expression which says that adversity makes strong, has for me become a reality and in many ways, I feel richer as a person after the events of the last few years.
Thank you for your attention.
New addition 2017
30 years have gone by since my ego presentation was held for the first time in 1987.
23 years have passed since the second and last time in 1994.
These last 23 years form the third phase of my life since my relationship to my then common-law wife came to an end.
The change of scene led to a new relationship which resulted in marriage in 1998.
Anne-Marie, also known as Pøne by those close to her, has long since married her Jens. They took over the running of the firm several years ago and this now operates in Norway, Denmark and Sweden.
My grandsons Oscar and Nicolas are 21 and 19 respectively, and grandad is living the life of an active pensioner with his Swiss wife, Marianne, in the South of Spain.
"My job is to create, to find the way. Others will have to level and pave." GM
"The correctness of history deteriorates proportional to the time it takes from it originated to the time it is written down." GM
"Although it is said that the shortest way to the goal is the quickest, it isn't always the best." GM